RIZZO RIZZO RIZZO
ChicagoSide Sports
By Joel Reese
July 2, 2012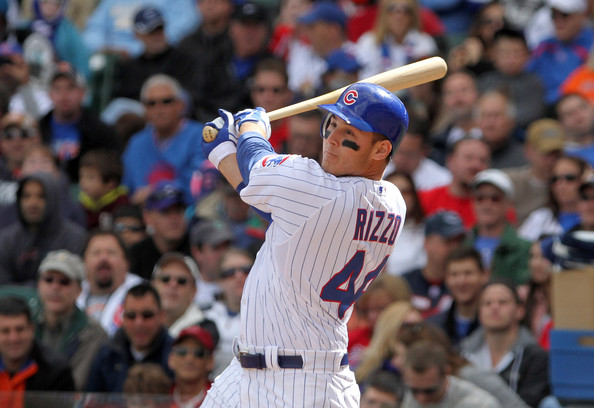 When Anthony Rizzo made his major-league debut at Wrigley Field last week, #RizzOMG became a popular hashtag, and internet comedians fired their best shots. Tweets included: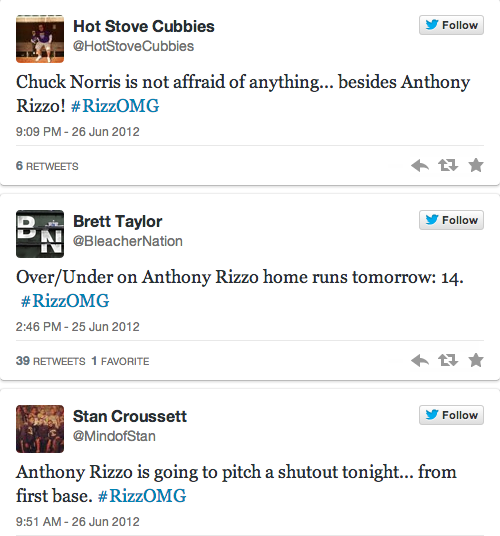 One wiseguy on Facebook wrote, "I hope I don't get burned by the flames shooting from the wheels when his chariot descends from the heavens."
Wait…that one was mine.
But the point is clear: Cubs fans officially see Anthony Rizzo as their savior. He may already be the team's most popular player.
(A quick history lesson: The Cubs acquired first-baseman Rizzo on January 6 for flame-throwing pitcher Andrew Cashner, and Rizzo followed by putting up absolutely Ruthian numbers in the minors. Hell, we learned that he even overcame Hodgkin's Lymphoma in 2008.)
So Cubs fans finally have some hope. And let's be clear: hope is not a bad thing. When your team has the worst record in the majors, it's easy to get a little carried away, and there's nothing wrong with that.
I'm here to tell you to dial it down a little. Just a notch or two.
For starters—wait, let me don my Kevlar suit and get in my underground bunker before I write this—Rizzo might not succeed.
Let's look at his minor-league stats for a moment. Rizzo crushed it in his first look at minor-league pitching, hitting .321/.422/.610 in 79 games. That includes 18 homers, 70 RBI, and 50 walks in 290 at-bats.
Oops. Sorry…those aren't Rizzo's numbers. They belong to another would-be Cubs legend, Hee Seop Choi.
And that's not a random comparison. As ESPN's baseball maven Buster Olney tweeted a while back: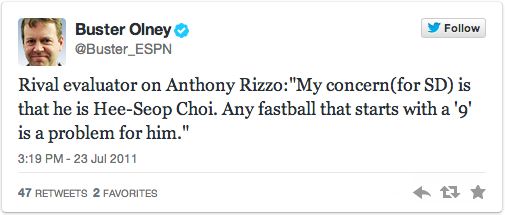 I get it. The majors are littered with recent can't-miss first-base prospects who, well…missed. Players like Justin Smoak, Brett Wallace, and Matt LaPorta set scouts' loins aflame, only to underwhelm in the majors.
I hate to be the one to point this out, but Rizzo has played in the majors before, last year in San Diego, where he batted .141 and whiffed 46 times in 128 at-bats. Ouch.
Lastly, even if Rizzo is the second coming of Lou Gehrig (and lord knows, I hope he is), the Cubs' roster still contains names like Casey Coleman (whose ERA can be seen from space) and Geovany Soto (whose batting average currently looks up at the Mendoza Line). Unless Rizzo can pitch no-hitters while driving in six runs a game, he's going to need a lot of help.
So let's try to keep some perspective.
But this brings us to a deeper issue: Why do Cubs fans need to believe in Rizzo so fervently? Why is there the stink of desperation to our devotion?
Here's why: the amiable Rizzo is enough of a tabula rasa that he's become the object of we Cub fans' batshit crazy neuroses, hopes, and dreams. He's not just a promising first baseman, he's a panacea.
We need Anthony Rizzo because we need to believe that, someday, our devotion will pay off. Generations have lived and died without seeing the Cubs win it all. Deep inside, we're afraid that's going to happen to us, too. Every season the Cubs don't win is a reminder that we don't have forever.
We need proof that this is working. Now.
Over the years, we've seen saviors in the front office—former team president/CEO Andy MacPhail came aboard with two World Series rings, and blustery Dallas Green seemed like he was going to get us there by sheer force of will. We've seen saviors as managers (Don Baylor, Dusty Baker, Lou Piniella). Obviously they didn't work out.
And do I even need to mention the Cubs' inability to develop former super-prospects such as Choi, Corey Patterson, Brooks Kieschnick, Felix Pie, Ty Griffin, etc? No? I didn't think so.
But now, Cubs fans are agog with the arrival of Theo Epstein, and Rizzo is the first example of Theo's handiwork. Rizzo is the first guy we can point to and say, "Look! See? There's a plan! And here he is!"
So Cubs fans march like lemmings into Wrigley Field to watch a team that could turn out to be one of the worst ever. Which is saying something in these parts.
They need something to latch onto. And that something is Anthony Rizzo.
So let's take a deep breath, Cubs fans. Rizzo might indeed turn out to be our Albert Pujols, a Hall-of-Fame bound, Gold Glove–winning, homer-crushing first baseman.
But he might turn out to be just, you know, a pretty good ballplayer.
*     *     *     *     *
Chicago native JOEL REESE refers to himself as a "recovering journalist." He spent more than 15 years writing, reporting and editing for publications such as Spin, Details, Deadspin, Mediate, Texas Monthly, and Chicago magazine. He was a National Magazine Award finalist in 2008 as editor of Time Out Chicago magazine, and had a story published in "The Best American Sportswriting" series. Learn more about Joel at www.joelcreese.com, and follow him on Twitter @joelcreese.