Chicago Cubs Win It All (Eventually)!
This article for ChicagoSide was kind of a wish-fulfillment type of thing. I may have gone a little off the deep end with Baez's stats, otherwise I still feel pretty good about this. Also: This video gets me. Every time.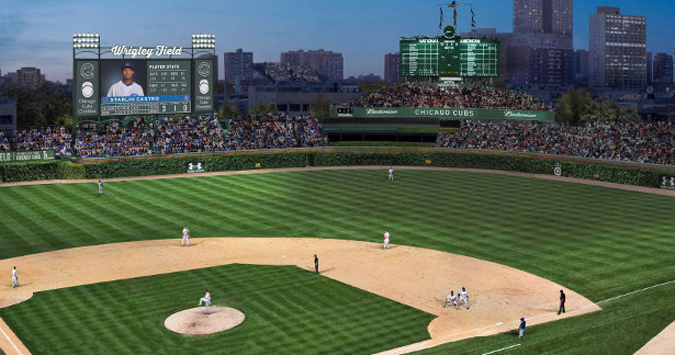 Pat Hughes: Hello everybody, Chicago Cubs baseball is on the air! From beautiful Wrigley Field in Chicago, it's opening day of the 2017 season and the World Series champion Chicago Cubs are facing the Milwaukee Brewers. Good afternoon everyone, It's Pat Hughes reporting with former Cubs star Keith Moreland. Let's just savor those words, Keith: World Series champion Chicago Cubs.
Keith Moreland: That's right, Patrick, and who would've thought you'd ever be able to say THAT?
Hughes: I know I had my doubts over the years — especially in the lean days of 2013.
Moreland: It was pretty tough when the team was trotting out a lineup with the likes of Logan Watkins, Ryan Sweeney, and Brian Bogu… Bingaboo… Bargain Basement…
Hughes: Bogusevic.
Moreland: Gesundheit.
Hughes: Uhh, thank you. Anyway, that's all the past now, and now the Cubs have finally brought the beautiful Commissioner's Trophy to the city of Chicago!
Moreland: Well, actually, the White Sox won the trophy in 2005.
Hughes: They did? I have no recollection of that.
Moreland: Me neither, now that you mention it.
Hughes: Meanwhile, the last time the Cubs were on this field, they were defeating the Boston Red Sox 7-1 in Game 4 of a series that was never truly close.
Moreland: The Cubs' lineup was on fire that entire series, Patrick.
Hughes: Second baseman Javier Baez kept up his incredible regular-season run into the playoffs, slugging five homers in four games against beleaguered Red Sox pitchers. By Game 4, they were literally walking him every time he came to the plate.
Moreland: I've never seen a team intentionally walk a man with the bases already loaded, but there it was. And left fielder Kris Bryant just about matched him, hitting four homers and knocking in 11 runs.
Hughes: Those two fed off each other during the regular season, too: Baez and Bryant staged a memorable battle for the National League Triple Crown — with right fielder Jorge Soler also making a late charge. In the end, Baez won the Triple Crown, NL MVP, and World Series MVP. Quite a feat, although his defense won't make anyone forget Brooks Robinson.
Hughes: But when you're slugging 54 homers and 149 RBIs, a few errors can be forgiven.
Moreland: I suppose 39 errors is a little more than a few…
Hughes: Let's not split hairs here, Keith.
Moreland: Fair enough.
Hughes: The pitching also played a huge role in the team's title run. Cubs' pitchers were practically unhittable, with ace David Price stringing together a 32-inning scoreless streak through the playoffs — including the way he set the tone with that unforgettable perfect game in Game 1.
Moreland: I've never seen anything like it, Patrick.
Hughes: And to think they got him from Tampa for two players who are now out of baseball, Dan Vogelbach and Starlin Castro.
Moreland: True, but Vogelbach has gone onto a phenomenal career on the competitive eating circuit.
Hughes: His recent bratwurst-eating championship… that was one for the ages.
Moreland: Indeed it was. And as you often point out, Patrick, several players the Cubs traded for over the years played crucial roles in the 2016 success. The most obvious example is C.J. Edwards, who the Cubs received in return for Matt Garza. He's thin as a rail, but he went 18-5 and struck out a whopping 227 batters this season.
Hughes: As for Garza, he'll be out of the hospital soon, finally recovering after the vicious beatdown he received from Adrian Beltre.
Moreland: Some people just don't think a plateful of shaving cream to the face is funny.
Hughes: Then there's Kyle Hendricks, who the Cubs got for Ryan Dempster. He, Price, and Edwards provided a 1-2-3 punch the Cubs haven't seen since the heady days of Sutcliffe-Trout-Eckersley.
Moreland: Dempster himself is now out of baseball, but he's doing his renowned Harry Caray impersonation at the Ha-Ha Hut in beautiful downtown Schaumburg tomorrow night.
Hughes: Surprisingly, good seats are still available. What's most interesting to me, Keith, is how several key Cubs people have gone on to new careers after the Cubs' victory.
Moreland: It's like, they climbed the highest mountain, and then they were done.
Hughes: It was a truly life-changing event for many. Theo Epstein is now Secretary General of the United Nations, and…
Moreland: I gotta say, I was surprised he earned that position — especially after his World Series acceptance speech consisted of… can I say this on the air?… "Suck it, Lucchino!" and an extended grab of his nether regions.
Hughes: That was… memorable. Last I heard, Theo was planning a weeklong getaway for U.S. President Tom Ricketts and Syrian president Bashar al-Assad, who's now one of our country's top allies after Epstein made a trip there last year. And I believe the meeting is being held near the giant amusement park that Epstein helped construct in the West Bank area now jointly owned by the Israelis and Palestinians.
Moreland: Meanwhile, Tom's sister Laura is the top aide to president Hillary Clinton, and former TV broadcaster Len Kasper left the booth to play bass for The Black Keys.
Hughes: Not all the changes were for the best, though — former WXRT DJ Lin Brehmer became famous for wandering the streets of Wrigleyville in his underwear, giggling "It finally happened…" and pouring beer on his own head. Makes Ronnie Woo-Woo seem like Kurt Vonnegut.
Moreland: Didn't he play for the Phillies?
Hughes: Who?
Moreland: Kurt Fargenbutt?
Hughes: No, he's, ahhh… never mind. Anyway, it was kind of the team to offer Brehmer a position as hot dog vendor, alongside one-time culinary star Grant Achatz.
Moreland: Indeed it was.
Hughes: And while it's not the life for me, former manager Dale Sveum seems quite happy as lead roadie for Foghat.
Moreland: He was never quite the same after Joe Maddon replaced him, was he?
Hughes: Not really, no. I bet a lot of other teams would love to have the bespectacled Cubs' skipper on their bench. How many games did the Yankees lose under rookie manager Derek Jeter last year? 100? 101?
Moreland: 102.
Hughes: And the Friendly Confines have changed, too — with the revenues the World Series win has produced, Wrigley Field has undergone some substantial alterations.
Moreland: Well, when you draw 3.4 million people to Wrigley Field, they're going to buy a lot of $7 cups of ice cream.
Hughes: And so the Sony Enormotron has been expanded to take up the entire outfield, and the Allstate-Groupon-Bank-of-America Water Slide reaches from the top of the Budweiser Bleachers all the way to Lake Michigan.
Moreland: I was surprised the city let that one through, but mayor Todd Ricketts made a strong push and that helped.
Hughes: I was going to take a spin down the slide after today's game, but since the temperature is in the mid-20s, I'll probably wait.
Moreland: That's a good idea. And even though the Cubs are world champions, it's still freezing here on Opening Day.
Hughes: Some things never change, Keith.